I've heard a lot of people say, "If you can walk, you can snowshoe. And that is true to some extent. But in my experience, I've found that snowshoeing can be a bit more complicated than just walking. I think a better line would be, "If you can hike, you can snowshoe." There are some perks to having a backpacking experience like knowing when to tackle a steeper hill or how to navigate rough terrain or backcountry which is not the same as just hiking. walk on a paved road or an open path with few or no obstacles.
If you're new to snowshoeing, you'll want to explore the marked trails first. You will want to have a good set of rackets that are suitable for your height and weight. You will also need sturdy poles with snow baskets (which are basically snowshoes for your poles). And you will need a good set of winter snow boots that are comfortable, waterproof, and preferably have good ankle support.
Yes, snowshoeing can be as easy as hiking if you have the right equipment. When I first went snowshoeing I started in my backyard after a good snowfall here in my home state of Montana. I tested normal walking, then climbing small hills, then descending small hills. I tried to walk on a fallen tree, fall and get up.
I learned that when you go down on snowshoes you have to keep your body straight with your knees slightly bent as if you were riding an escalator. Lift your feet up and go slowly. Do not rush. As you go up a hill, dig in the snow and pound each of your steps a few times before transferring your weight. If the hill is steep, go up in a zigzag way. When you cross a large log or tree at the bottom, walk up to the log, then step onto the log in the center of your foot while using your poles for extra security before descending to the other side.
If you're new to snowshoeing, you might want to start with an easy 20-30 minute route and avoid crossing streams. Another tip is to stay about two stick lengths between other snowshoers in the event of a fall so you don't get stung by someone else's stick. If you do fall, a trick I've learned over the years is to crisscross your poles evenly (making an X) and hook onto the crisscross in the center of the two poles with your hand. Then use the poles as a support to get up if / when you fall. This keeps your hand from diving into deep snow and gives you extra support to get up more easily.
As with any off-piste or outdoor activity, do your research before you go. Check the weather and avalanche conditions, plan your route, bring your first aid kit, and be sure to dress in layers. Bring a GPS, map, compass and cell phone. And of course, knowing how to use them. Always be aware of large stumps that might be hidden under the snow, keep it simple at the start and stay on designated trails.
Here are my recommendations for six of the best beginner snowshoes – from kids' snowshoes to adult snowshoes, and that can accommodate a variety of heights and weights, as well as their condition.
1. Shasta Lightweight Winter Snowshoes – 25 inches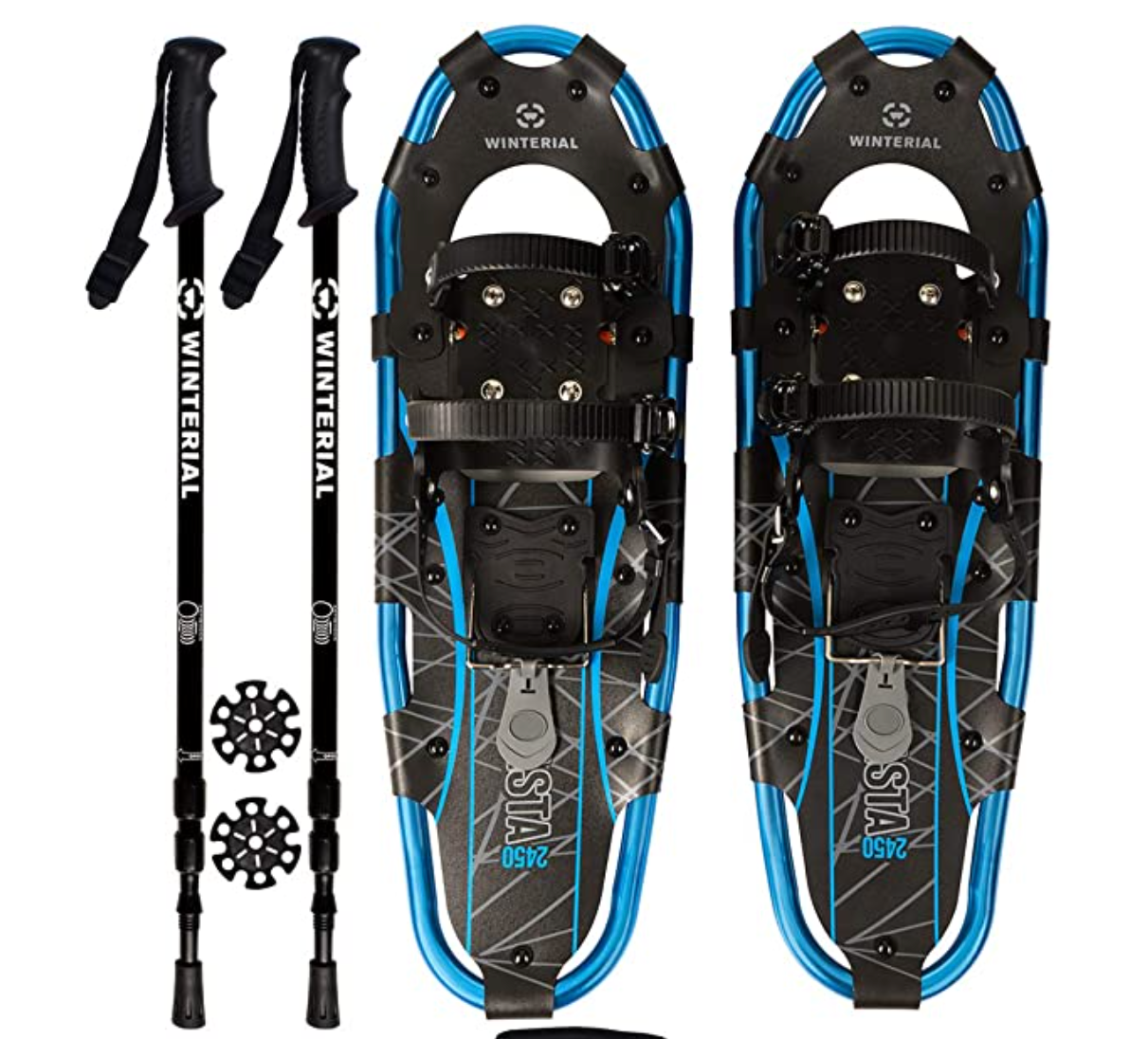 These Winterial Shasta snowshoes are ideal for beginner and intermediate snowshoers. The 25 inch rackets are ideal for people between 140 and 200 pounds. Also, don't forget to consider the weight of your backpack if you're carrying gear. A rule of thumb is that the heavier the person, the wider you will need for rackets for better support. For example, Winterial Highland snowshoes are 30 inches tall and can support up to 220 pounds. They are similar to Shasta rackets with added support and durability.
These Shasta racquets come with poles and a carry bag, so you can pack your racquets right out of the box if you have waterproof neoprene boots, like de Muck, LaCrosse or Bogs. These rackets are lightweight with an aluminum frame and are ideal for recreational snowshoeing. The foldable poles make it easy to store, and they're shockproof, so they'll work well for you and keep you comfortable on your hikes in the deeper snow. These snowshoes also feature an easy-to-use ratchet strap to secure your boots.
Advantages/Excellent value for money, lightweight, easy to use
The inconvenients/May be difficult for beginners to lift their heels, only supports up to 200 pounds
Final result/A sustainable, cost-effective option that can be used right out of the box
2. Tubbs Women's Mountaineering Snowshoes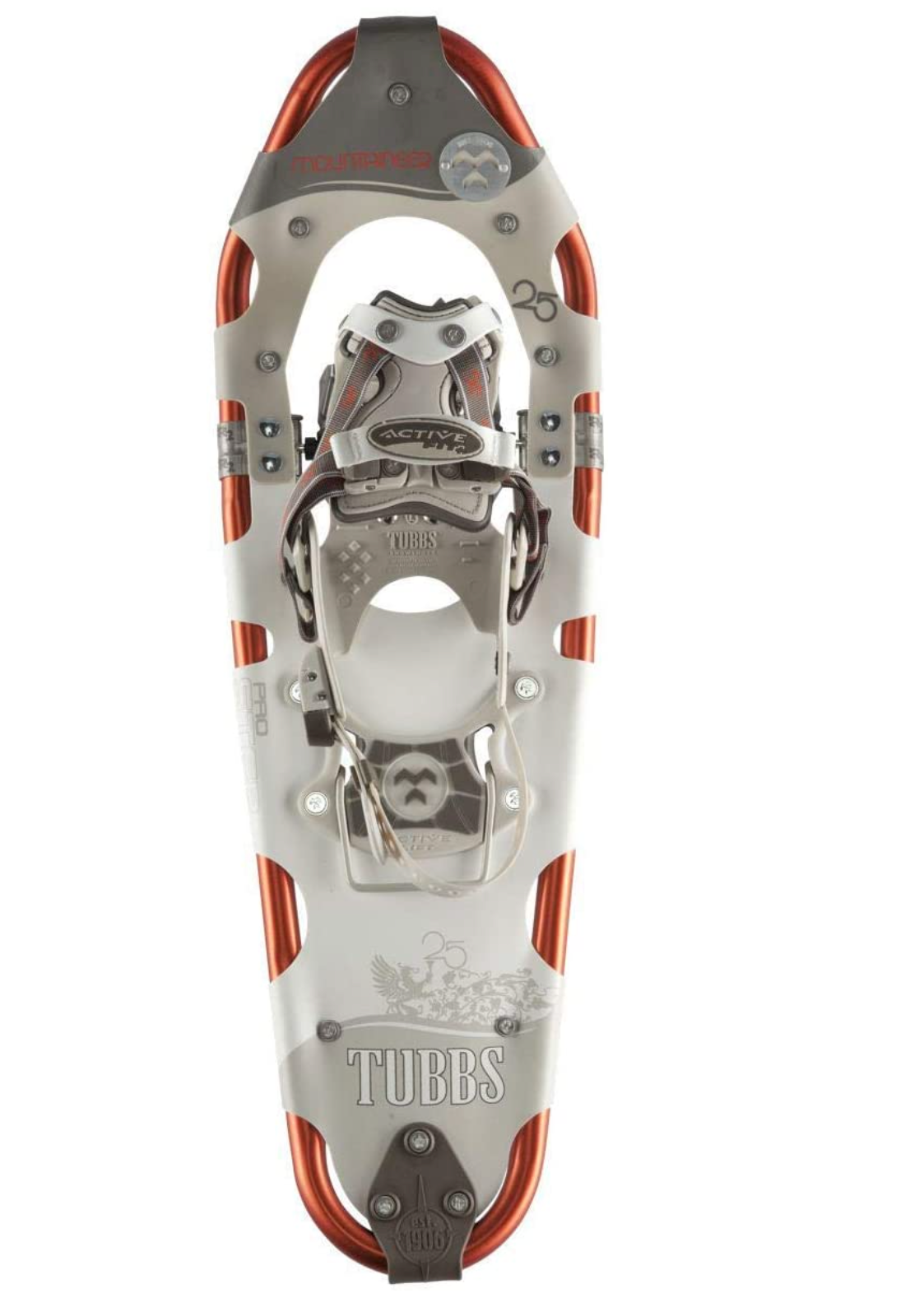 These stylish and lightweight Tubbs Mountaineer women's snowshoes are built to last and will give you confidence as a beginner in the snow. With a higher price, you get a lot of upgrades with these rackets. They feature an Active Lift heel lift that will reduce calf fatigue if you're snowshoeing long distances. The bindings are easy to use and you get a Pro-Step frame that reduces stress on your joints while hiking.
These snowshoes also feature a razor-sharp toe cleat with eight teeth so you have constant contact with a wide range of terrain in harder snow. If you are snowshoeing in deeper snow with inclines, these snowshoes are ideal. These snowshoes can also support up to 200 pounds and are ideal for trails and backcountry snowshoeing.
Advantages/Robust, comfortable and ideal for deeper snow
The inconvenients/More expensive than other snowshoes for beginners
Final result/Designed to last a long time, razor sharp teeth for better grip and sleek styling
3. Xtrempro 2 piece adjustable hiking poles and snowshoes set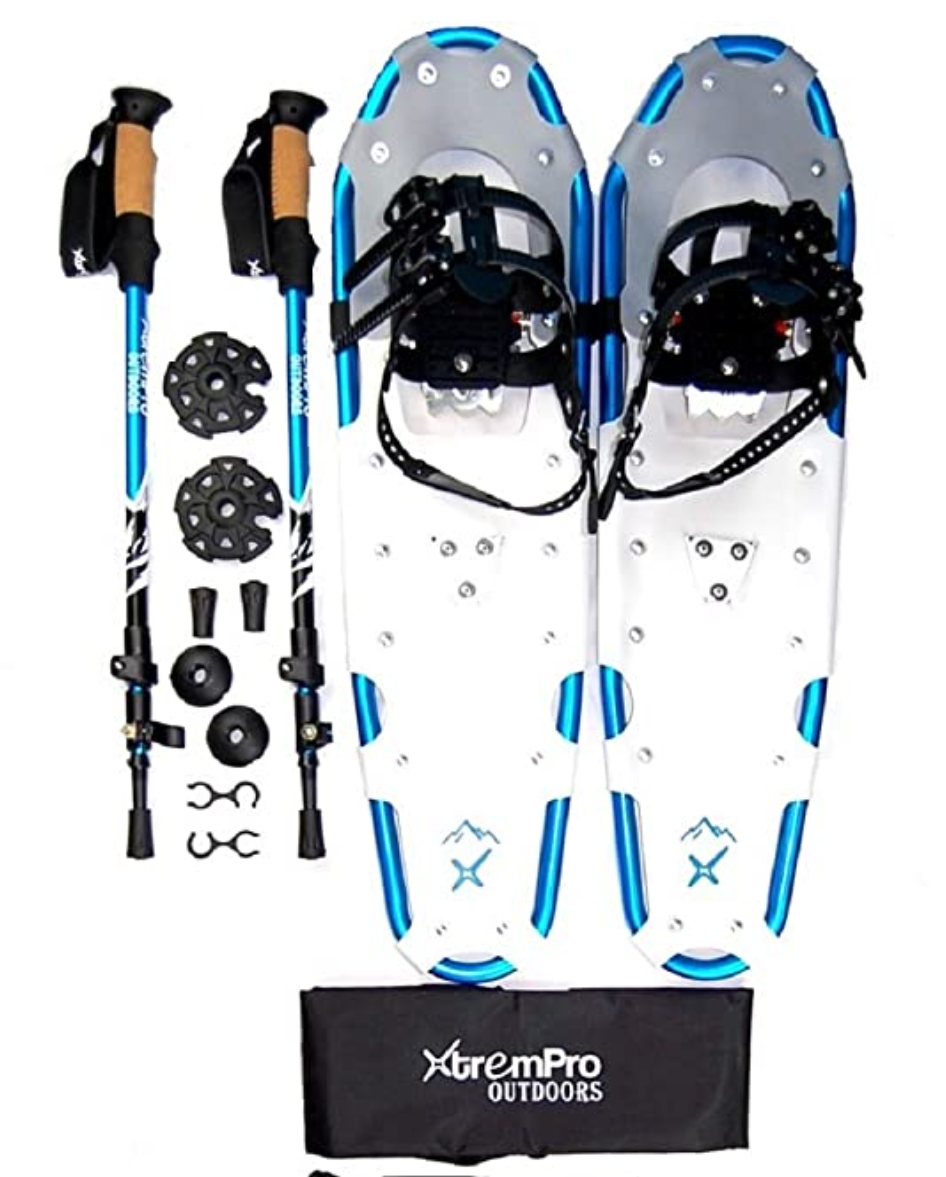 If you want to try snowshoeing in your backyard, on local trails, or in forest service areas, this Xtrempro Trekking 2 Piece Snowshoe Set will work well for you and get you snowshoeing right out of the box. for about $ 100. The poles will keep you safe and the lightweight aluminum snowshoes designed with a 3D frame are designed to keep you comfortable as you hike and descend on easy to moderate slopes.
These snowshoes also feature crampons that are sturdy enough to help chew through light ice and packed snow, so you can walk safely on the trails. With a 36-inch frame, these snowshoes can support up to 350 pounds, making this set a popular choice for hikers carrying heavier bags or tall and tall hikers who need extra support.
Advantages/Can snowshoe right out of the box, higher weight support
The inconvenients/Nothing
Final result/Ideal for light to moderate conditions, beginners, ideal for trails
4. MSR Revo Ascent Men's Snowshoes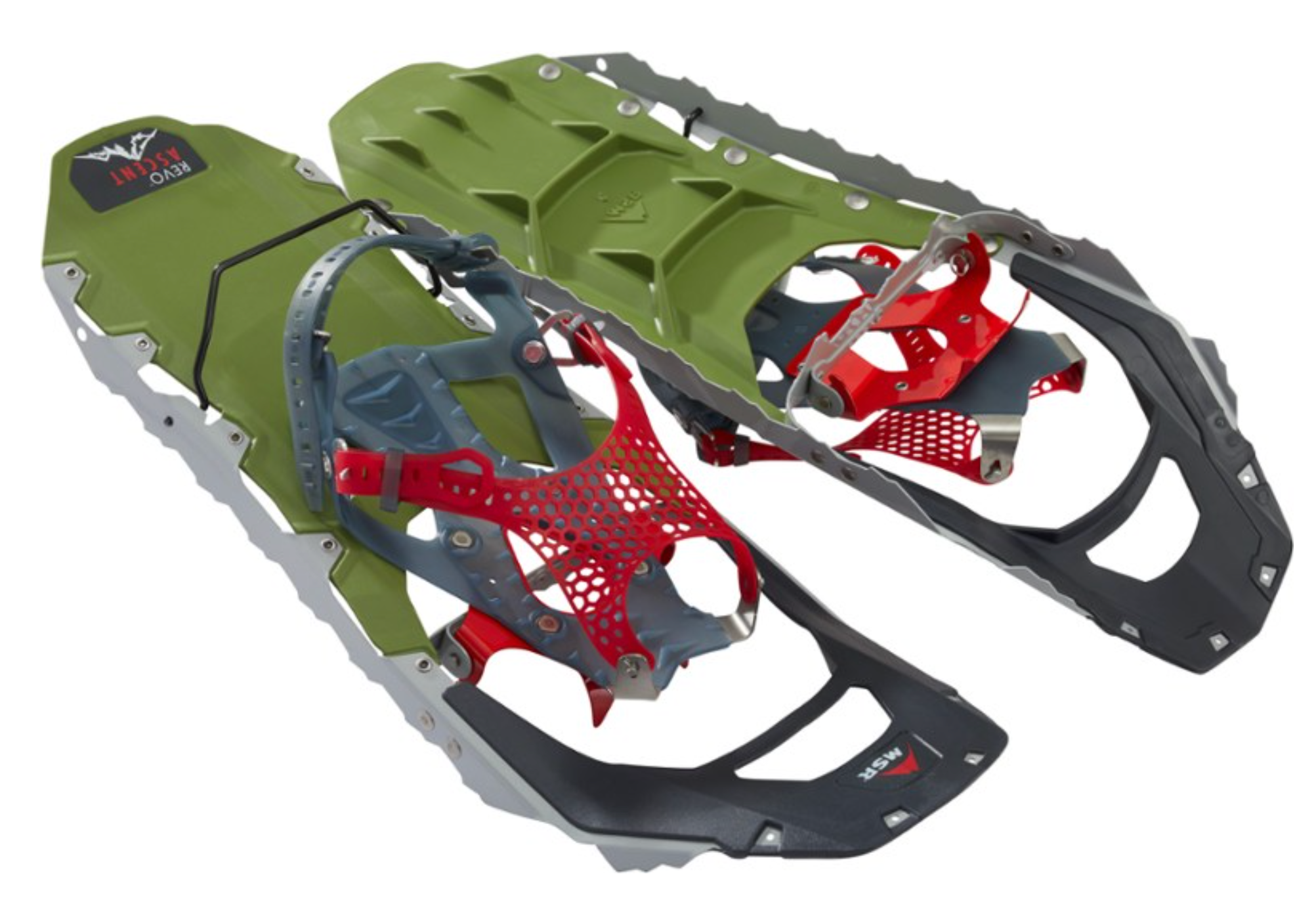 These snowshoes seem to sell out quickly and have great flexibility underfoot. The MSR Revo Ascent is also incredibly tough and durable with an injection molded ExoTract plastic desk that can withstand tough conditions. They also have frost resistant mesh straps, aggressive perimeter teeth. At 22 inches, these snowshoes can support up to 180 pounds, including the weight of a hiker with equipment.
Advantages/Extremely rugged and built to last for many seasons, possibly a racquet life
The inconvenients/Can support only 180 pounds
Final result/A sturdy racket ideal for beginners up to 180 pounds with a unique design
5. Chinook 80008 Trekker Men's Heavy Snowshoes – 36 "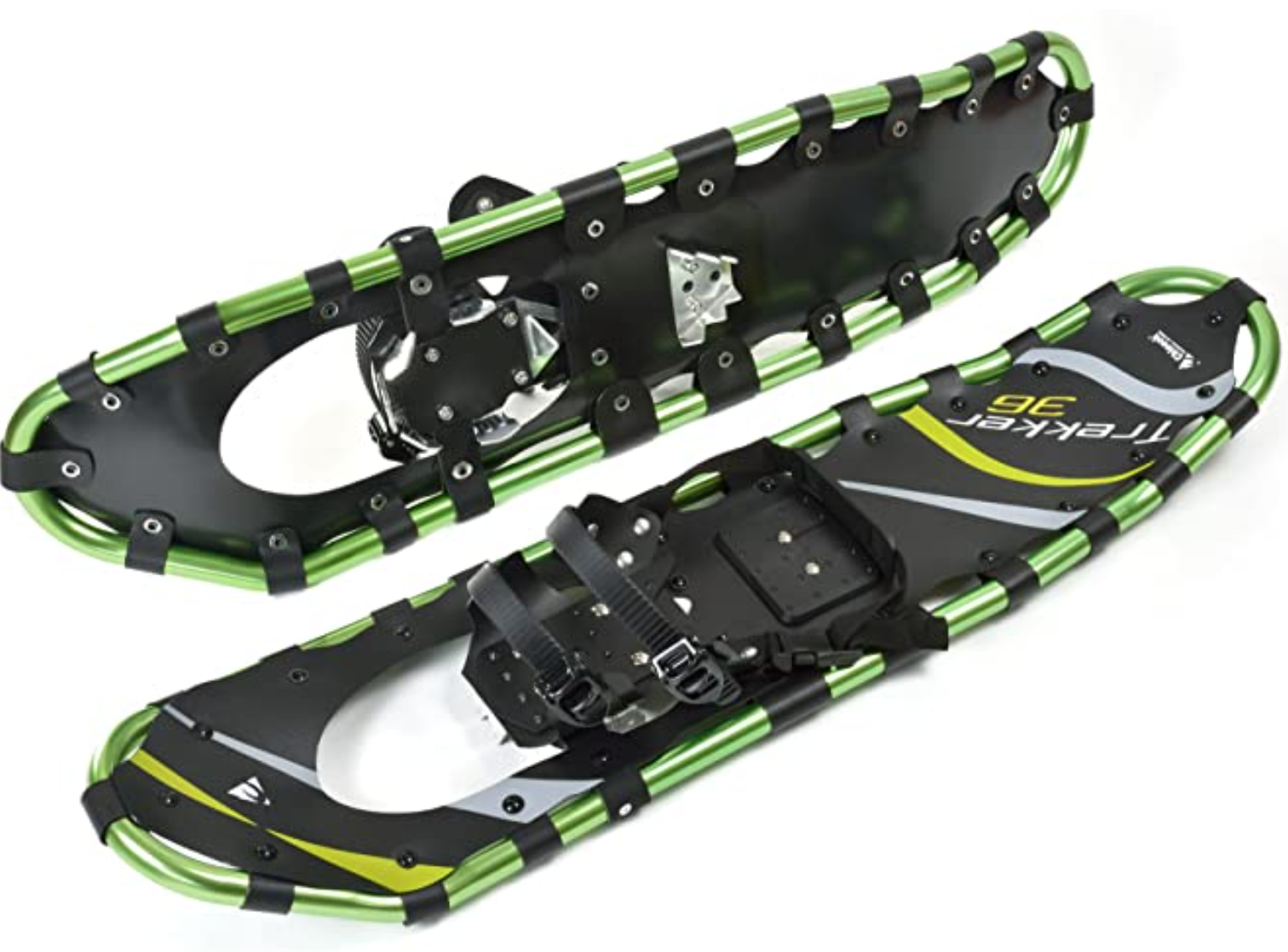 These tall, tall Chinook 80008 Trekker snowshoes have been a favorite with beginner snowshoe enthusiasts for the past seven years and are still around today. With a recommended load of 250 to 300 pounds with gear, these aluminum frame racquets are lightweight with an ergonomic design and easy to use double ratchet bindings and heel straps with quick release buckles.
Since the latches are easy to tighten and loosen, you won't spend too much time adjusting your snowshoes on the trail.
Advantages/Holds up to 300 pounds
The inconvenients/Not recommended for steep climbs without heel riser
Final result/Great for tall and tall men, good beginner snowshoes
6. LL Bean Winter Snowshoes for Kids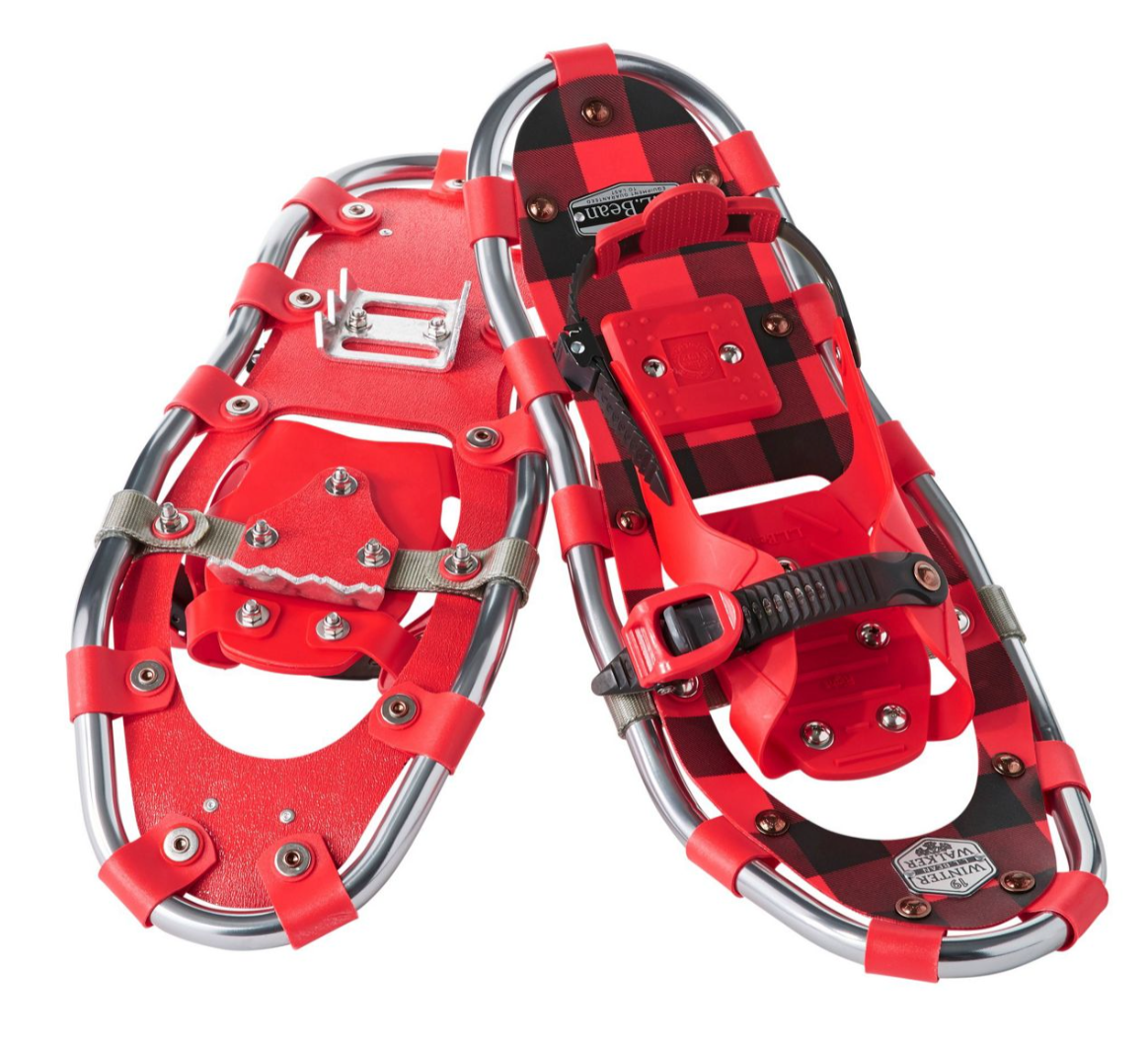 If you go snowshoeing with kids, these LL Bean Kid's Winter Walker snowshoes are a good choice for your kids to walk comfortably on snowshoes. You can buy these snowshoes in 16 inches that can support up to 60 pounds or in 19 inches recommended for children between 50 and 110 pounds. They are easy to adjust by the kids themselves, the bindings hold the boots well and they are lightweight with an aluminum frame.
Advantages/Easy to use and adjust, ideal for beginners
The inconvenients/Long delivery time, poles sold separately
Final result/A good racquet for kids up to 110 pounds, easy to use and durable
Suzanne Downing is an outdoor writer and photographer from Montana with a background in environmental science journalism. Her work can be found in Outdoors Unlimited, Bugle Magazine, Missoulian, Byline Magazine, Communique, MTPR Online, UM Native News, National Wildlife Federation campaigns and more.
Featured Image by Lukas Gojda, Shutterstock
We are committed to finding, researching and recommending the best products. We earn commissions on the purchases you make using the retail links in our product reviews. Learn more about how it works.