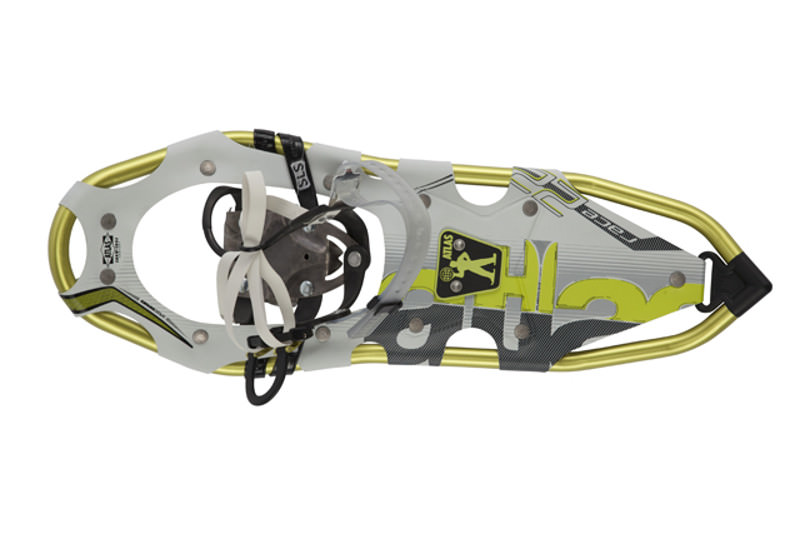 Atlas Race Snowshoes • Snowshoe Magazine
It's an interesting time for the snowshoe racing world. With improved shoe traction devices and ski touring / climbing gear, many casual outdoor athletes and elite endurance athletes don't really need a pair of snowshoes. Unless, however, they are running or walking in deep snow or on single track trails.
I first used the Atlas Race 2014-2015 snowshoes during a snowshoe race in Beaver Creek, Colo. At McCoy Park. The terrain started out on groomed corduroy (where snowshoes aren't ideal or even necessary to wear, especially while running), but the course quickly took runners to a trail that required extra support underfoot.
Snowshoes are significantly lighter and smaller in diameter than the touring style snowshoes that I have owned and tested, as running rackets only weigh about a pound each. While I prefer to run on snow with microspikes at the bottom of my running shoes, the Altas running shoes keep me above deep snow on technical strides when the cleats on the shoes would allow me to fall through.
The 5 km McCoy Park course continued to go from groomed to powder, and the snowshoes did not weaken under my feet. I love the light, tight bindings, which held the soles of both of my feet in place with lots of quick steps and leg lifts. The shoes also have a titanium toe and heel stud, so slipping into an ankle or knee injury has never been a threat.
The ease of each step (rather than a hard, heavy blow) is created by the spring suspension in the shoes, so the maneuvers seem almost as easy as with my running shoes.
With improved technology designed for snow cleats on boots and skins on skis, snowshoe racing might run out of steam, but I don't think it will. Equipment like the Atlas Race snowshoes offer athletes a way to move quickly on an uninterrupted trail – in a straight line, up a mountain or down.
The shoes helped me finish first in my age group (20-29) in the March 1 run at Beaver Creek, and I can't wait to beat that 5k time with those same snowshoes on the last race of the series this year, held on March 29.
For more information on Atlas Race snowshoes and their other products, visit http://en-us.atlassnowshoe.com.